Like many, my love affair with Pickleball started innocently enough. A friend of mine kept trying to get me to play; I resisted for months. Finally one day after hemming and hawing about the weird name and the fact that I heard "it's the fastest growing sport in North America," about 100 times, I acquiesced.
My mind was blown. It was the most fun I had playing a sport since I was a kid. Then, the COVID-19 pandemic caught us all by surprise and I, like many, was looking for something that was COVID-friendly and a way to stay in shape. I found myself craving this game that not only brought me joy, but also was an activity that allowed me to be social and play outside during the pandemic days where everyone was pretty scared about contracting COVID-19.
The joy, the competition, the camaraderie – I was hooked. But the obsession truly took hold not that long ago, in May of 2022 when I paid just a few dollars to sit courtside at the PPA Atlanta and watch some of the top pros Julian Arnold and Anna Leigh Waters compete. I was in Atlanta setting up my first rental property, and I had learned about the tournament too late to register as a player. But it was fate because sitting there just as a fan, watching match after match for hours really hooked me. I remember thinking, "I'm in. This is it. I'm doing this for the rest of my life," and I haven't missed a beat since that day.
Fast-forward a little more than a year and here I am, the proud owner of my second rental property (first short-term rental), with two pickleball courts in the backyard, dubbed the 'PickleBnB'. Together with a swimming pool and a putting green, these courts have transformed The Pickle BnB's backyard into a vibrant haven for pickleball enthusiasts looking to visit Las Vegas, Nevada.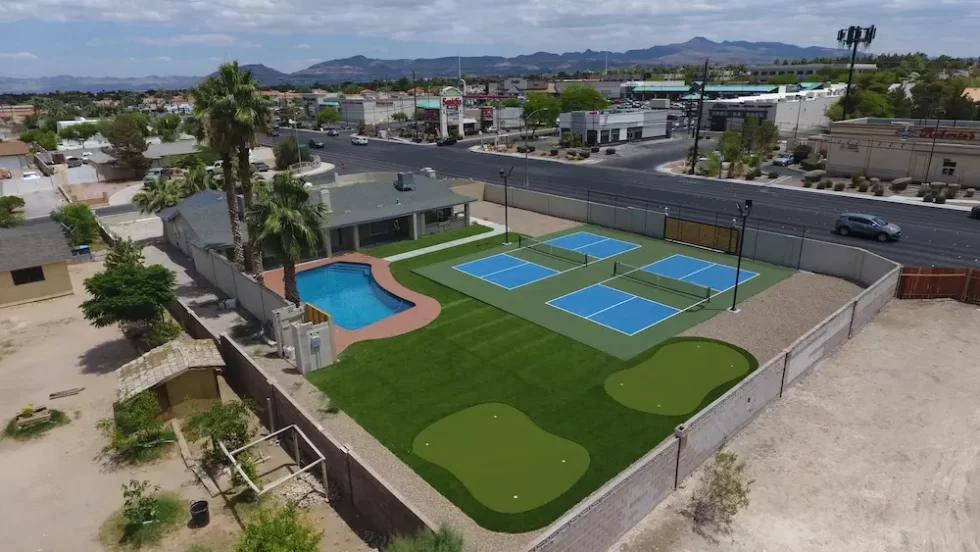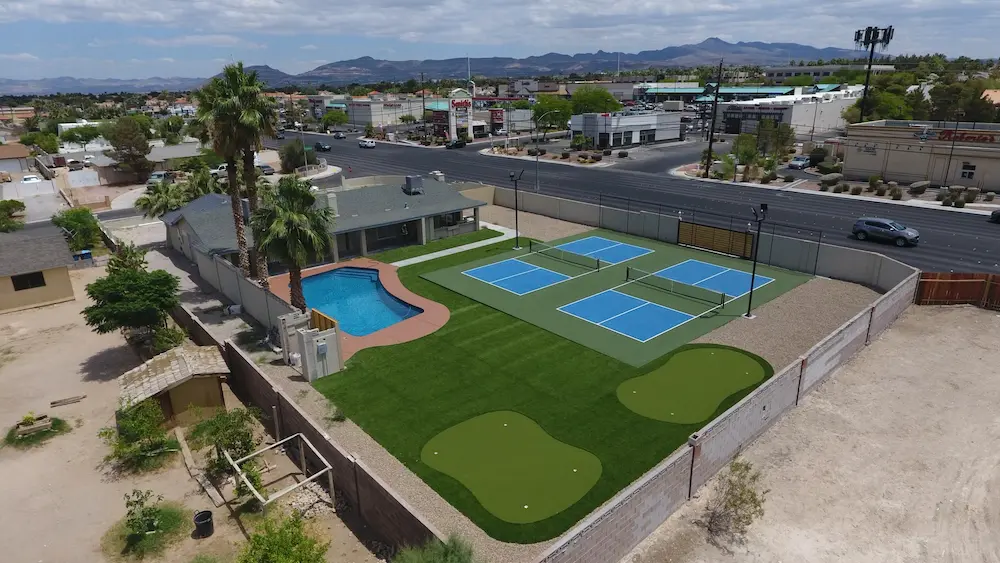 I am honored to collaborate with Primetime Pickleball and share some considerations in building pickleball courts should you, or anyone you know, seek to build them in the future, as it is a complex endeavor.
An Important Disclaimer
This blog post is, of course, just my personal experience and although I've learned a lot, if you ever build your own pickleball court it is imperative to consult the necessary professionals to make sure you're doing so safely and skillfully. Also, I'm sharing approximate prices here but as you probably know, costs of concrete, paint, materials, and especially labor can vary market to market. Hiring a company with a strong reputation and experience is probably going to cost more, and you'll probably be happier. If you work with a company that subcontracts out unlicensed contractors, it might be cheaper, but you might run into issues around quality.
1. Concrete vs. Asphalt
The base of your pickleball courts is by far your most important, and costly, decision. When it comes to the base of the playing surface, there are two main options: concrete and asphalt.
Asphalt is cheaper upfront, but the long-term cost is higher due to more frequent resurfacing and repairs. Concrete, on the other hand, though more expensive initially, lasts much longer. Post- tension concrete (which has tensioned cables running through it to help resist cracking) with a medium broom finish is the best option if you go with concrete. It should be around 5 inches thick, with court dimensions ideally being 64 by 32 feet (60 by 30 feet if space is a constraint). I was a big spender and with post-tension concrete, for TWO pickleball courts, I had a 60 foot by 60-foot slab built (just shy of suggested dimensions but that was because of backyard space, and the courts have ample, comfortable space around the lines).
Total Cost: Approximately $43,000 (approximately $22,000 for one court space).
Reminder, this was for two courts and is the most expensive (but most reliable) option.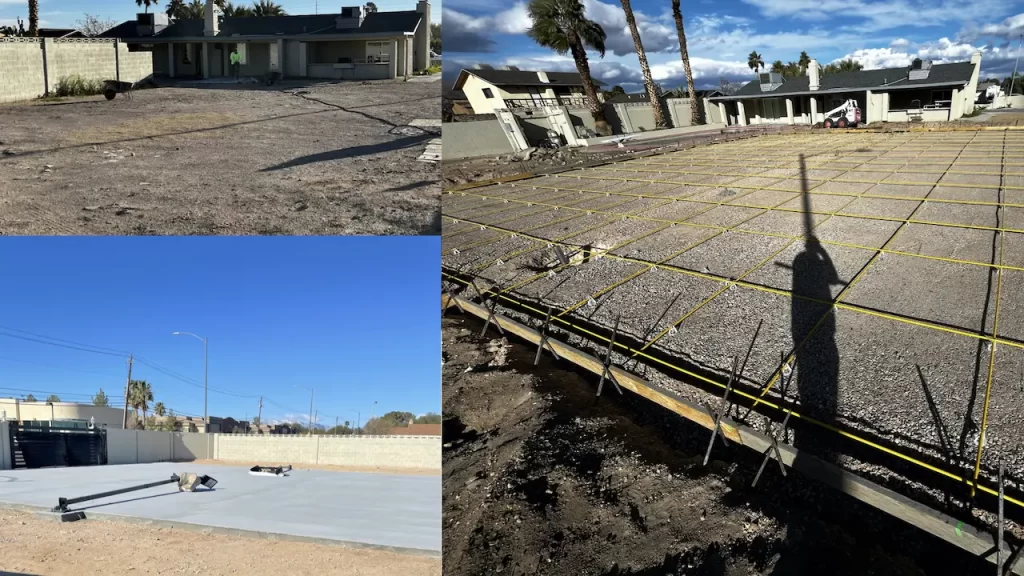 2. Surface: Acrylic vs. Other
After you figure out the base of your pickleball court, next is deciding your surface type. If you've dreamed of building a pickleball court, you've no doubt thought of color schemes at one point or another. This is part of the consideration of your court surface.
When a surface is painted on, it's usually a type of acrylic paint, which is what I used. I was lucky enough to be at our property when the court painters came, prepped the space, drew the lines, and painted. With the Las Vegas heat the multiple coats were done and we were playing a day or two later. If you're thinking of a permanent pickleball space with permanent nets (see section below), acrylic is a good option. Quick note: this is an art and I had lengthy conversations with our painters about the fact that painters don't always get it right (blurred lines, etc.). Ask for some pictures so you know what you're getting into.
If you're thinking of a multifaceted space (i.e., a place to play multiple sports), you might consider another option. Other options include roll out pickleball surfaces (like Pickleroll) or those sport court interlocking tiles (made mainly of high-level rubber) that are often used for outdoor basketball courts. This is the type of space that would be considered semi-permanent and would be a dedicated space for play, but where you might have a pickleball surface and basketball court in one (and in this case you'll most likely opt for removable nets, see section below).
I've played roll out pickleball courts in tournaments before and as long as the floor/concrete below it is in good shape, it's a good option.
Make no mistake however, this isn't something you can just buy at Home Depot and roll out yourself. You'll want to get in touch with the professionals and have them install it. Don't skimp on your base (concrete or asphalt) otherwise you might be in a position where your roll out mat or paint will just act as a band aid to larger issues. I've hit the ball on the sport court interlocking squares a couple times and didn't really vibe with it, but to each their own.
Total Cost: Approximately $9,000 for two courts with all cleaning, prepping, lines, and paint (approximately $4,500 for one court).
3. Nets: In-ground vs. Removable
A permanent, in-ground net ensures stability and saves setup time. However, if you want to use the space for multiple purposes, removable nets offer flexibility. Some of these nets can be quite pricey but it just depends on what your goals are. At the Pickle BnB, we branded the whole space around pickleball so we went with in-ground nets. A little more construction cost but worth it for ease of use. If I ever get successful enough to have a pickleball court in my backyard of my primary residence (and that land is hard to come by in the SF Bay Area in California), I'd most likely have a combination pickleball court (for me) and basketball court (for my son) with a removable net.
Total cost: Approximately $3,000 (approximately $1,500 for net).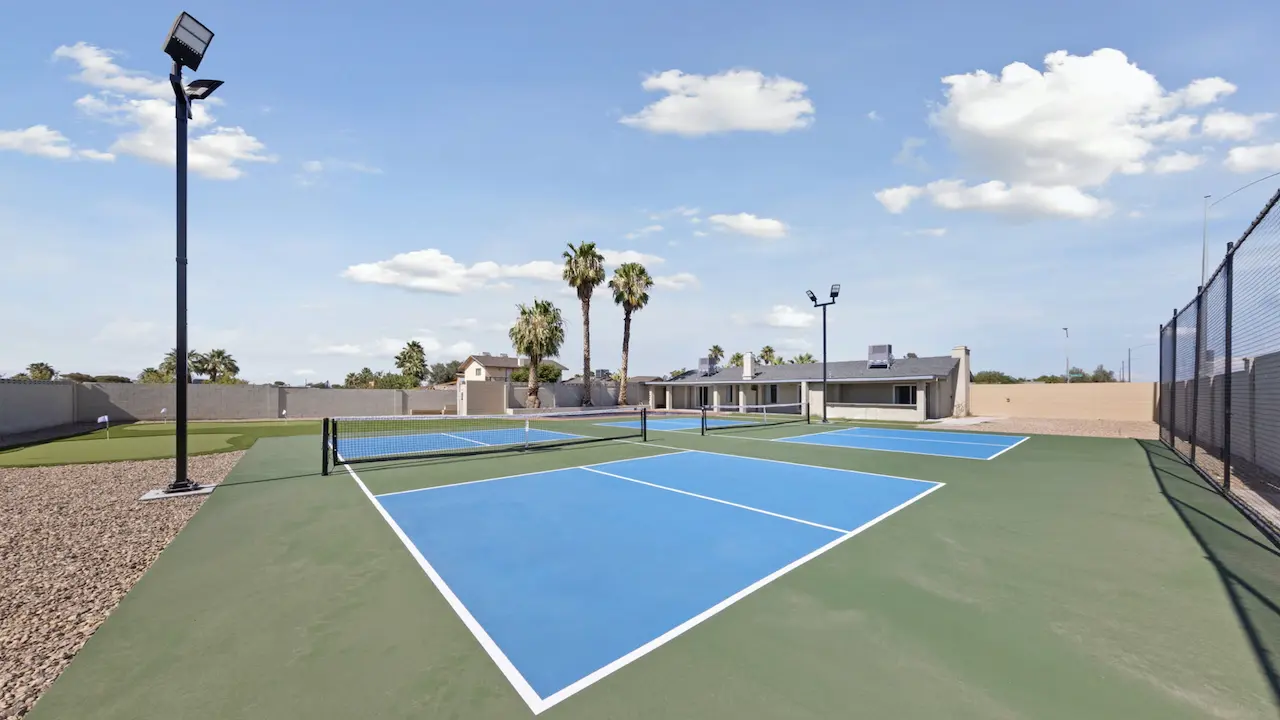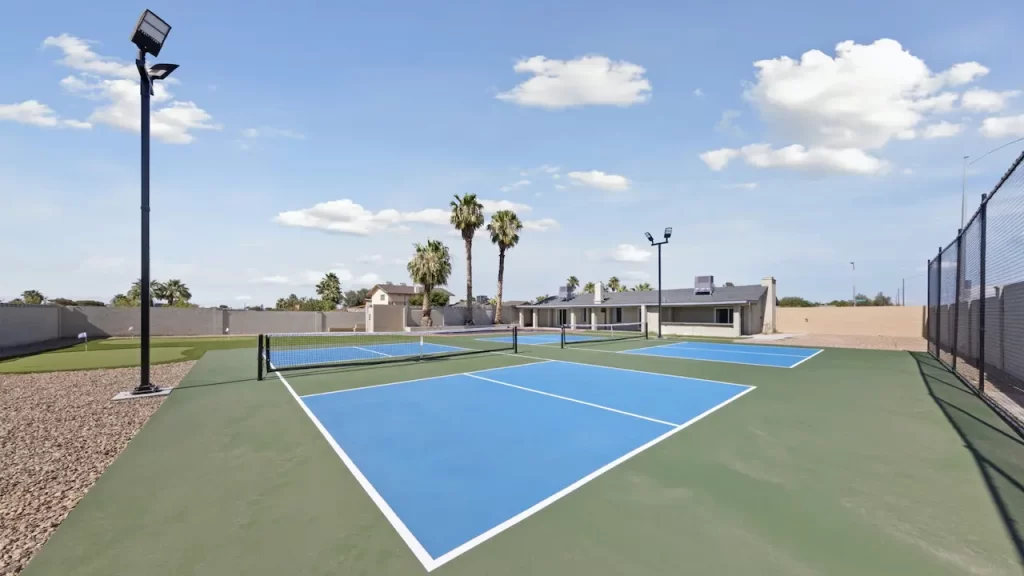 4. Lights
Lastly (at least for this post), lights are crucial for the obsessed pickleball players. With lights you can play deep into the evening (not too late however to not upset neighbors nearby) during the Fall and Winter months. We have two lights around center court facing inward, and they illuminate the courts extremely well in complete darkness.
Total Cost: Approximately $5,000 (approximately $2,500 for one light).
5. Directional Orientation of the Courts
A final consideration (at least for this post) is the directional orientation of your courts. This shouldn't add any extra cost to your project but might be limited by the space you're working with. You want your courts oriented North to South. Why? Because of the sun. If you're courts are oriented East to West, in the mornings and evenings, one side of the court will be blinded by the sun and you and/or your pickle friends will always have an excuse for losing a game. If you can choose the directionality of your courts, don't forget this aspect.
The Final Tally
Overall, we spent approximately $70,000 (would've been approximately $35,000 for one court) for this project all in (there were labor costs and a few other expenses not faceted into the above). Reminder: These costs can vary widely depending on your market. This was also the cost for two rather than one pickleball court. I have no doubt that if I did this where I live in the Bay Area, it'd probably have been more expensive.
And if I build another Pickle BnB in another location (fingers crossed this experiment works), I now have more knowledge that will offset some of the costs for this project.
If you'd like to support this cause, the best way is to book your next pickleball getaway at The Pickle BnB. Play in a tournament, have fun, see Las Vegas, and more than anything else, experience joy through pickleball!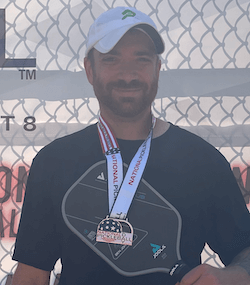 Author: Sam Himelstein, PhD – Sam is a clinical psychologist by trade who co-owns a mental health and substance use disorder clinic that serves patients in the San Francisco Bay Area. As a formerly incarcerated teen, he transformed from a path of drugs, trauma, and bad decisions to a psychologist who works with youth in similar situations he was once in. He's a father of two and an avid, obsessed pickleball player. The Pickle BnB (https://thepicklebnb.com) combines he and his wife's desire to invest in real estate and support joy through pickleball.