Pickleball History – A Brief Overview
There is much debate about the history of pickleball, where it came from and why it is called pickleball.
Our understanding based on the extensive research and knowledge of the mother and daughter team of Beverly Younger and Jennifer Lucore, authors of "History Of Pickleball – More than 50 Years of Fun!" (available for sale on Amazon), is that it was invented in it's initial crude form by the kids of the Pritchard and McCallum families in the Summer of 1965 on Bainbridge Island, WA.
The kids were bored and wanted a fun game to play during the summer. Soon after, the adults of the families got hooked on the new game as well and they continued to play the game when they returned to their homes in Seattle after summer vacation was over. It was then modified and adapted over the coming months and years to dial in the equipment and rules.
There's also a story floating around out there that somehow involves a dog named "Pickle" and another which includes a boat but we're going to trust Jennifer and Beverly on this one.
Here at PrimeTime Pickleball, all we know for sure is that we love playing pickleball and we love teaching it. And, we really believe we can help you improve your game dramatically. We strive every day to help you do that with our online instructional videos and courses.
What is Pickleball?
The game is we know it today…let's start from the ground up:
Pickleball Court Dimensions and Surface
Pickleball is played on asphalt or concrete surface that has a textured acrylic coating.  The court should be oriented in a north-south position to minimize the time a player has to spend looking in the direction of the sun.
The minimum recommended total surface area (inner and outer portion of the court) is 30 feet by 60 feet though 34 feet by 64 feet is preferred.  The area of play extends well beyond the lines of the court and it's important to factor in enough space in the outer area of the court in order to comfortably play on a court.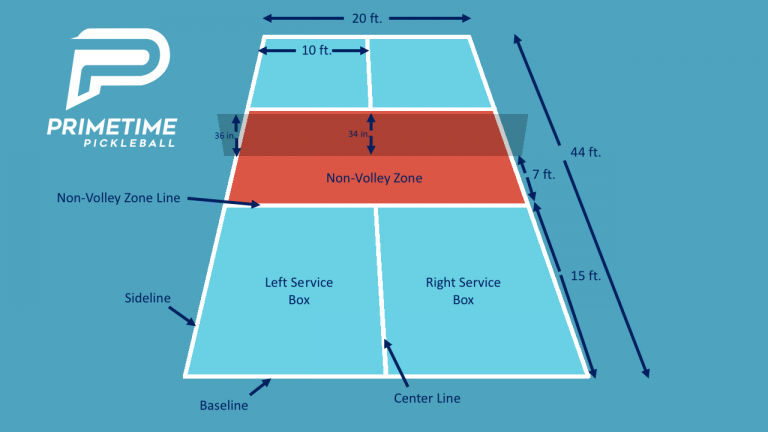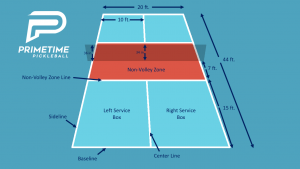 The court is measured from outside of the court lines and is 20 feet by 44 feet for both singles and doubles.  The court lines are typically white and should measure 2 inches in thickness.  As mentioned, the 2 inches should be included in the overall dimensions of the court.
The Non-Volley Zone (NVZ) also referred to as "The Kitchen" (see the pickleball rules section below for more information on NVZ ) is 7 feet from the net and the service boxes measure 15 feet by 10 feet.
Pickleball Equipment
In addition to pickleball paddles and balls, that we'll cover in greater detail a little further down the list, other pickleball supplies you will need include:
Pickleball Net
The net can be made of any netted material and should measure at least 20 feet in length so that it can reach from one sideline to the other.
However, since the recommended placement for net posts is 12 inches outside the sideline it's best that the net be at least 22 feet in length.  The net height where it crosses each sideline should be 36 inches and 34 inches at the center of the court.
The size of the meshed holes should be small enough so that the ball does not pass through.  A center strap is generally used to easily bring the net height down to 34 inches at the center. 
Pickleball Shoes
There is currently no manufacturer that designs shoes specifically for pickleball.  That said, that may not be happening anytime soon because there are other options that are practically identical to what would be made for pickleball.
The best shoe to get will depend on if you will be playing indoors or outdoors.
The best option for outdoor shoes that are appropriate for pickleball are tennis shoes.  The playing surface and movement patterns for tennis and pickleball are largely similar and most players find that tennis shoes are perfect for pickleball.
If you play your pickleball indoors on a gym surface then volleyball shoes are your best option to deal with the slippery wood floors.
Pickleball Ball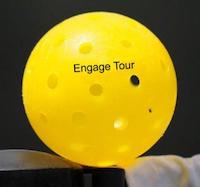 The ball is round and made of a durable plastic material that can measure anywhere from 2.87 inches to 2.97 inches in diameter with approximately 30 or so circular holes that are relative evenly spaced across the ball.  It greatly resembles a whiffle ball.  The ball has a uniform color which is most often yellow although it doesn't have to be.  Green, white and orange balls are also relatively common.
Pickleball Paddles
If you find yourself loving the game, as many do, and you don't want to come across as a total newbie to the game then definitely don't ask other players "So, where can I buy a pickleball racquet?" LOL.
Many players coming to the game of pickleball from other racket sports think that paddles are called pickleball rackets or pickleball racquets.
But, in fact, the correct term is pickleball paddles. Don't beat yourself up about it though if it does happen. It happens to many of us.
It definitely happened to me and sometimes it still does, to be honest. I've played tennis all my life and it just slips out sometimes.
In fact, one of my slip ups is caught on camera and is on youtube in one of our videos for all to see. Oops. I caught it during editing but never edited it out because I thought it was kind of funny. I dare you to find it.
Top Pickleball Paddles
If you're looking for top rated pickleball paddles, we strongly suggest you look at the Engage Pickleball brand line of paddles.
The paddles made by Engage are the most widely used by the top Pickleball professionals in the world.
You will often find an Engage paddle in the hands of many who find themselves atop medal stands at tournaments at every level, including the very top Pro level events.
If you plan to play USAPA sanctioned tournaments, one thing you'll definitely want to check when considering your paddle purchase is if the paddle complies with USAPA guidelines and is listed as approved for sanctioned tournament play. Most Engage paddles are however, some paddles, like those that are in their entry level line (Omega & Apprentice) are not.
Another reason we really love supporting EngagePickleball is that while most other paddle manufacturers outsource their paddles to OEM manufacturers overseas, Engage is a US-based company and they perform every step of the paddle manufacturing process themselves in the United States.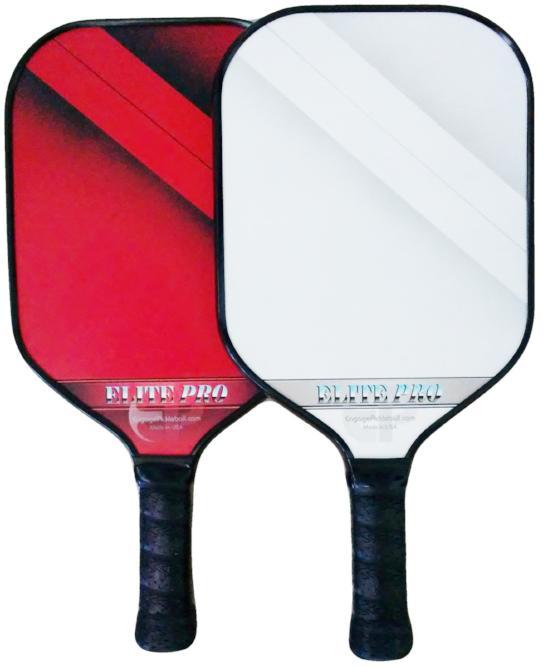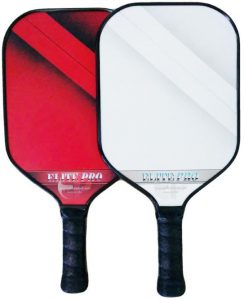 They have their own in-house team of designers, engineers and technicians that does all the creative design, technological innovation and production of their paddles. They work with US based suppliers for source core components.
Jordan and I are big fans of the Engage Elite Pro and most recently the Engage Elite Pro Maverick which is very similar with a few key differences.
The Elite Pro is optimized for power while also still having great control and a texturized surface that helps when putting spin on the ball. The Elite Pro Maverick has all of these great features while being a bit narrower and longer in order to maximize reach. The Maverick also has a longer handle that is perfect when you want to put two hands on the paddle as many want to do especially on the backhand side.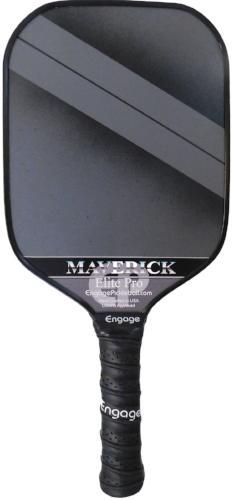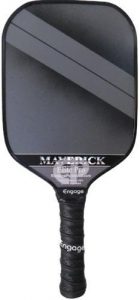 We think that the Engage Maverick is currently the best pickleball paddle on the market. It is the signature paddle of Ben Johns who is widely considered to be one of the very best players in the game today, if not THE best.
Top Pickleball Paddles For Sale
A great way to get top of the line pickleball paddles for sale is to look at the sale section of a paddle companies website.
There you may, and often will, find brand new paddles at discount prices because they have a mild cosmetic blemish.
I once bought a new Engage Elite Pro paddle this way. When it arrived, I honestly had no idea what the blemish was. It looked fine to me and it played great. It's usually just a printing error on the graphic and has no impact on the structure or playability of the paddle whatsoever.
You will get the same exceptional performance out of the paddle at a heavily discounted price and with the same warranty as a new paddle.
You will also often find clearance paddles in that same section. Clearance paddles are great paddles that may be going out of production to make room for newer models or are simply overstocked and need to move off the shelves to make room for other product.
Where to buy pickleball paddles
Pickleball paddles are becoming more and more widely available. Amazon is definitely an easy option to research and buy a paddle that will be at your house two days later. We highly recommend EngagePickleball.com as a great place to buy a paddle.
Pickleball Set
Beginning players often purchase their equipment as a set.  Sets typically come in groupings that include several entry level paddles and balls.  Some sets include a net in addition to paddles and balls.  As the popularity of the sport is increasing, pickleball sets are often found in big box retail stores such as Walmart and Target.
Keep in mind that if you really get into the game as many do.  You'll probably want to upgrade to a higher end paddle sooner rather than later.  Great paddles make a difference in terms of playability.  For example, I'd really struggle agains other players in my group if I came out there with a wooden paddle.  Even if I spent a bunch of time beforehand on my own getting used to it.  Lol!
Pickleball Rules & Pickleball Scoring
The rules and scoring of pickleball are covered extensively in the official USAPA Rulebook that can be found here: https://www.usapa.org/docs/ifp/USAPA-Rulebook.pdf
Although the scoring seems a bit tricky at first it's not a bid deal once you get used to it. The game is not complicated but since the rules have to cover every possible scenario that might happen, we strongly advise that you read the rulebook so that you are very familiar with the rules and what to do in every situation should it arise. It's far to big of a topic to cover in this overview.
How To Play Pickleball
Now we're getting to the good stuff!! How to play pickleball is what this site is all about.
We specifically teach effective pickleball stroke techniques, drills that will help you master those techniques and winning
pickleball strategy
that will make all of that pay off in the form dominating recreational play at your courts or getting on the podium at pickleball tournaments.
We also have slow motion analysis of top players as well as our own strokes to really give you a good view of what happens during a well executed pickleball stroke so that you can get out there and replicated it as best you can.
We're famous for having some of the best pickleball videos around both here on our site and on our Youtube channel. Fee free to comment on this site or own our channel to let us know if there's anything you'd like to see. We take requests and we do our best to make a requested video if it makes sense to do so.
Pickleball Tournaments
Currently the top tournaments in the world are the USAPA National Championship now held in Indian Wells, CA, The Minto US Open Pickleball Championship held in Naples, FL and the Tournament of Champions held in Ogden, UT.
The options for playing pickleball tournaments seems to be growing at an exponential rate. In order to find pickleball tournaments near you, definitely check out pickleballtournaments.com. When there, hover over "Tournaments" and go down and click on "Tournaments by Country/State", find your state and get in on the action with fun competitive play.
PrimeTime Pickleball is proud to be a title sponsor of the Engage Golden State Pickleball Championships held annually in Concord, CA. It is a prize money tournament and is the biggest tournament held in Northern California. It's been known to feature top players in the game.
What's next?
"How do I find pickleball courts near me?"
Check out the USAPAs resource on finding places to play near you or while you're traveling:
https://www.places2play.org
If you haven't already, get in on this game! You'll be glad you did.
3 Keys To A Killer 3rd Shot Drop