Pickleball is America's fastest growing sport. This exceptional growth & demand for this sport has left finding an ideal pickleball court somewhat limited in some areas of the country.
The growing pickleball movement has made it clear that the game is here to stay whether you are a pickleball beginner or a seasoned player.
Players are constantly on the lookout for beginner friendly pickleball locations on their pickleball learning journey. Depending on your zip code, finding out where to learn pickleball near you may right at your fingertips if you know where to search for courts.
Are you ready to find some awesome pickleball courts to play at?
Finding a Pickleball Court to Play Near You
You may be a pickleball newbie looking to find quality pickleball locations or venues that offer seasonal pickleball programs, where you can play and master the game.
Here are a few pickleball resources to help you find different types of pickleball locations:
1. Pickleball Places to Play Site App and Website
Let's start with the first place you should be looking at. The Pickleball Places to Play Site is a rich source for pickleball court location information.
As per LinkedIn, there are currently over 50,000 active members and a growing number of ambassadors in the USA Pickleball Association.
These members & ambassadors are continuously updating the official Pickleball Places to Play website with new information regarding where players can find pickleball court locations.
Information on the website include:
Physical location of the pickleball courts
Amount of available courts to play on
Other relevant Pickleball court information
You can easily filter your search results by location name, city, state, and zip code.
For your convenience, you are now able to download the Places2Play app for free from the Apple App Store.
This resourceful app allows you to view nearby pickleball courts and other dedicated pickleball facilities.
2. Local Community Centers/YMCA
Another great resource is your local community center or YMCA. Start by going online to your favorite search engine and do a pickleball courts keyword search.
You can narrow your search by simply putting the words "pickleball near me" in brackets in the search box to make sure that your search is very focused.
Additionally, if you are looking for a local options, search in Google or Apple Maps and enter, in brackets, the words pickleball courts. It should kick out a series of search results with the information you are looking for.
You can also phone your local YMCA or community center to inquire about any open play times. The great news is that the pickleball movement is experiencing such a boom that chances are pretty good that the centers or local YMCA offer games during their non-peak hours.
These times are mainly in the mornings and/or early afternoons.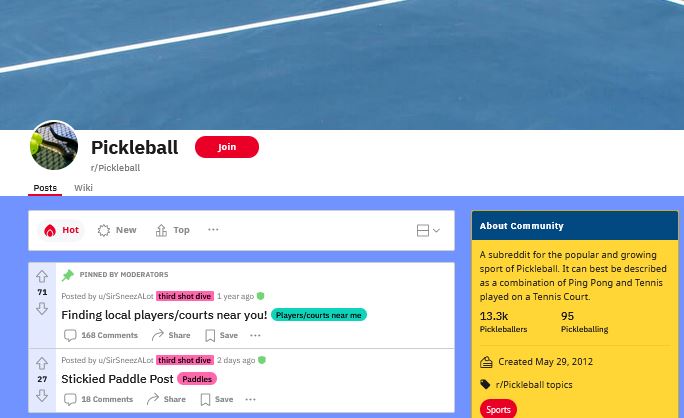 3. Facebook Groups or Reddit
The Pickleball Forum Facebook Group is a pickleball forum on Facebook with a huge number of members that is rapidly growing. It is another rich source for pickleball information.
Pickleball fanatics, both new and experienced players, can join this group and interact on all matters pertaining to pickleball, such as venues, clothing, equipment, and rules of pickleball as well as to enjoy reading about pickleball.
Alternatively, you can search in Facebook's search box by typing in the word "pickleball" as well as the name of your current city.
This should provide a list of possibly dedicated Facebook Groups or Pages in your area that will have the inside information on local pickleball courts in that area, hybrid pickleball courts, and other pickleball court locations. 
Reddit is another online group that allows you to ask questions related to the game, and is another rich information resource for beginner pickleball players.
4. Tennis Clubs
Tennis centers are incorporating pickleball into the programs at their facilities in an effort to generate additional revenue when the tennis courts are not being used for play.
These tennis facilities usually have set monthly rates for members but offer additional daily or monthly passes at very reasonable rates for pickleball players.
The standard tennis courts are altered by placing two portable pickleball nets on the tennis court, either side of the main tennis net. One court can host four to eight players at a time.
Many of these tennis ball facilities will designate a few of their tennis courts to be used as pickleball courts to accommodate the players and increase the revenue stream.
5. Dedicated Indoor & Outdoor Courts
Many cities have their own dedicated indoor and/or outdoor pickleball facilities.
Some of the indoor facilities feature dedicated pickleball courts that have been specifically designed for the pickleball game so that dedicated pickleball players may enjoy the benefits of pickleball.
Both outdoor & indoor pickleball facilities are popping up all over the country in many cities. If you are lucky enough, you may already have one near you, or one may soon be built in your area.
Refer to #1 for an easy way to find some indoor & outdoor courts.
6. USA Pickleball Ambassadors
Another fantastic source of pickleball information are pickleball ambassadors.
These ambassadors are essentially dedicated representatives who are committed to spreading to word and information on the game of pickleball in their designated areas.
They are well versed in all aspects of the game such as the rules in pickleball, with knowledge on pickleball workshops and clinics in their local area, as well as gear and equipment for the game.
Where To Learn To Play Pickleball
Getting started may be somewhat daunting. Ideally, the best places to learn to play pickleball is on the court. To find a court, simply use any combination of the 6 places above. Once there, it is a good to become a regular student or perhaps introduce yourself to other players.
There are a few basic rules that you will need to know or master first to help you in your journey of learning to play pickleball.
1. Find Someone Who Plays
A great start would be to team up with a friend who plays or by going onto online forums to find groups that play the game.
YouTube is a great source of information regarding the game. Alternatively, you could hire a coach or attend pickleball clinics as there are a lot of pickleball clinics that offer pickleball skills classes to improve your basic game knowledge.
We also offer some Pickleball courses here to help improve your game & strategy.
2. Get the Right Gear
The right equipment and type of shoe can really make or break your game. The two most important aspects are the paddles and the shoes.
You need a proper court shoe. Most newbies start out with a running shoe. But you need more support for lateral movement. There's A LOT of lateral movement in pickleball and running shoes are terrible in this aspect. They virtually no lateral support. A pair of tennis shoes are a bit more appropriate to prevent ankle injury.
There is a lot of running in pickleball, as well as lateral movements. You need a sturdy, reliable shoe.
The pickleball paddle is your tool of trade in the game.
Different manufacturers make paddles using different materials. Each of these materials allow the paddle to perform in a different way. You will need to find the ideal paddle for a beginner.
3. Finding The RIGHT Pickleball Court
As previously mentioned, there is a wealth of knowledge online about locating pickleball venues to play at. Most of these facilities are simply a click away.
More importantly, is finding the right courts. Maybe you want to hang with players at the same skill level or just play recreational. Some courts may be more newbie friendly and some might be training grounds for some semi-professionals.
So the best way is to just show and play and find out what's what as you go.
Final Thoughts
Technique then speed. Master the rules of the game, locate a group with the same interest as you, and find a dedicated pickleball court, and you've won half the battle of learning to play pickleball.
What are you waiting for, grab a paddle, find a court, and learn to play pickleball today!